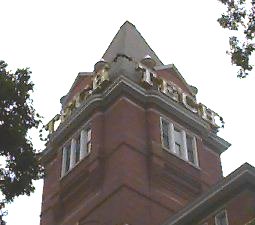 I graduated from the fine Georgia Institute of Technology in December of 2002. I majored in Computer Science and was the first student to receive a minor in Performance Studies. I started there way back in the summer quarter of 1997, about two weeks after I graduated from high school. So, basically the summer vacation before college was a quick trip to Disney World, but that's OK because I enjoyed starting early. Tech was certainly a challenge and the admissions department didn't expect me to make it (hence summer acceptance), but I made it through and am probably a better person because of it. Or something like that.

Of course, we have a kick-ass football team. Our school newspaper is the South's Liveliest, The Technique. Georgia Tech is much better than that other "school" in Athens, where my traitor of a sister decided to go.

If you're interested, for some strange reason, I saved all of my schedules for almost every semester I attended. I was also a co-op student, which meant that I alternated semesters between school and working at CNN. Well, not really alternated so much as worked less hours while in school.


Fond Memories of School and others not so fond:
The SWARM...Getting packed in to the stands like sardines and sitting right next to the band so we had to yell The Ramblin Wreck at the top of our lungs
Tearing down the goal posts (or being on the field when it happened)
Second floor of Towers hall with John, Jeremy, and Jeff
Running back and forth to Hanson from Towers
The Towers of Terror haunted house
4th floor of Field and all of the stairs to get there
Russ Clark -- the best networking professor
The LAWN (Local Area Wirless Network) on campus
The GT Computer Store in the pre-Barnes & Noble days
Parking on campus... or lack thereof
I'm a ramblin' wreck from Georgia Tech and a helluva engineer!
---
This webpage and the images contained on this webpage are © 1999-2003, Myke Olson and may not be reproduced without permission.